There's no leak SERVPRO can't fix
1/10/2022 (Permalink)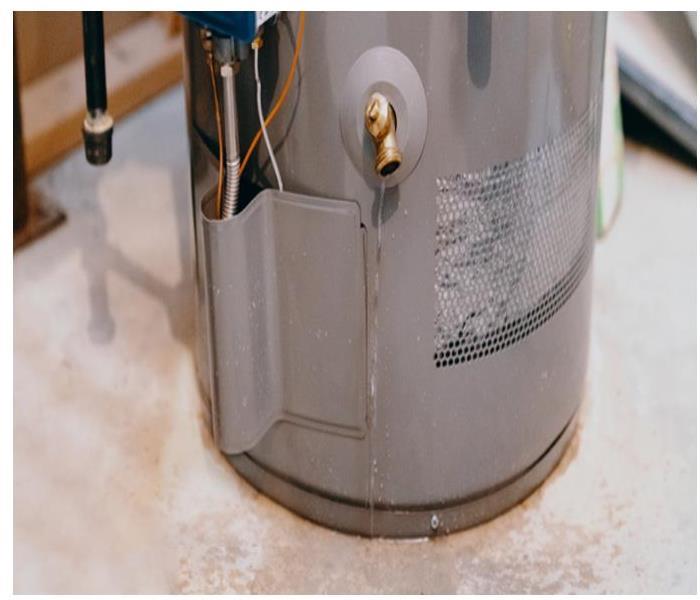 If ur water heater ever leaks please give SERVPRO of Southwest Portland a call and give us the opportunity to restore your home.
SERVPRO of Southwest Portland received an after-hour call regarding a huge water loss. The owner called us and you could tell in her voice that she was very frantic and emotional. They continued to explain that the water heater had a large leak and it leaked through the adjacent wall into the kitchen. The water fully penetrated the wall and went under the flooring, soaking the sub-flooring and the leak continued for almost 24 hours despite them turning the water off to the water heater.
Within 20 minutes of the call ending our crew of well-trained professionals on our on-call crew arrived at the shop and loaded up one of our trucks and headed to the home. During the initial walkthrough with the owner, it was obvious that the water heater is now unusable and needed to be replaced the water has dried.
Our crew chief then came up with a drying plan to restore the home prior to the water loss. Demolition of the walls is required due to the amount of water behind the walls along with the kitchen cabinet needing to be removed due to it being attached to the wall. Laminate flooring also needed to be removed to help speed up the drying process.
Our crew chief then came up with the drying plan this was going to be a job with a lot of equipment. Due to the water going through the walls into the kitchen and across the hall so the damage affected multiple rooms. Multiple air mover and dehumidifiers to get this job done as soon as possible.
The crew was able to get this job done in only 3 days. Here at SERVPRO of Southwest Portland, we make sure to make your home or business look just as good as new or how we like to say "Like it never even happened." Please call SERVPRO of Southwest Portland twenty-four a day seven days a week for any Fire, Water, Mold, or Bio-hazard clean-ups. If you have any questions please give us a call at 503.777.9739.